Electrical Contractors in Nottingham You Can Trust
You can contact us anytime to book a FREE consultation appointment
Call 555 555 555 or fill out the contact form with a few basic details and our team will call you
Electrical Contractors in Nottingham You Can Trust

We are a professional electrical company that is committed to ensuring our customers always come first.  
We also pride ourselves on providing the best quality workmanship and operating according to modern and safe standards 
You can be sure we will meet all your requirements whether it's for an commercial electrical project, large industrial projects or a residential house rewire. Our electricians in Nottingham only utilise modern methods of installation, together with high quality products and services. We also complete testing and inspection services within all sectors.
Our prices are always competitive and transparent, no hidden extras!
Everything from EICR testing and scheduled routine maintenance tasks to full commercial electrical installation contracts and modern lighting upgrades, Alpha Electricians can help and support your business with all your electrical requirements.
Some of the Commercial Contract Work and Sectors We Serve
Electrical Contractor Commercial works
Warehouse Wiring
3 Phase Installation
High Bay Lighting
Low Bay Lighting
LED Lighting installation
LED Lighting Contractor
Fire Alarm Systems
Armour Cable install
CCTV, Shop Fitting Electrical contractor
CAT5 wiring – Structured Cabling – CAT6- Patch Panels
Specialist lighting contractor
Air source heat pump installation
3 Phase sockets
Commercial wiring 
Electrical Contractors Agricultural sites,
Electrical Contractors Farm wiring
Armour Cable installation,
Electrical Contractors Marinas
Electrical Hook up install points
3 Phase install
Commando socket install
What is a commercial electrician?
An electrical contractor is a tradesman who performs electrical work for clients. This may include installation, repair, and maintenance of electrical systems, equipment, and components within a building or site. A qualified electrician should be used for all installations.
A commercial electrical contractor is an expert in the field of commercial wiring that deals with power distribution among different areas of a building. These contractors are responsible for power distribution systems, electrical equipment, and the lights within a site. They may also be called upon to install electrical hardware including outlets, plugs, switches, and fixtures. Other duties include making sure the wiring is installed according to building codes or that it follows industry standards for safety where applicable. A commercial electrician will be involved in the design and planning stages of building a construction project.
Commercial electrical wiring is done for many reasons including to supply power to heavy equipment that needs more electric current than a household appliance, or anything that requires large amounts of electricity. In commercial settings, there are specific outlets set up for machines using large amounts of power. In the average office setting, a commercial electrician may work to install new lighting or can help with upgrading or adding more electrical circuits.
Commercial Electricians are involved in the construction of a building from start to finish. This is a very satisfying position as they get to not only plan and design but also see their plans become reality!
Electrical commercial Wiring
An electrical wiring scheme is designed to ensure that different sections of an office or other commercial premises are electrically isolated from each other. It also ensures protection for workers and enables adequate levels of safety, security, and performance within the installation. Isolation may be vertical (from one floor to another) or horizontal (from one side of a wall to another).
Generally speaking, electrical wiring in a commercial setting is more complex than domestic wiring. The primary reason for this is the larger number of appliances and equipment that may be used within such an environment. These can include:
* Lighting systems in offices, factories, warehouses, etc.
* Computer systems that require a separate system to manage the power (usually known as mains).
The disadvantages of fixed mains wiring are that it is inflexible and any modifications or additions to the equipment require re-wiring. For this reason, many commercial buildings now use 'floating' systems where each item of equipment has its own individual connection which can be moved around as required.
Commercial Electrical Installations
An electrical installation is a large system of devices and equipment that sends, receives, or stores electricity. It consists mostly of conductors with protective devices to ensure the safety of people who work on it.
An electrical installation includes several parts:
– Distribution board
– Main cables
– Switchgear / circuit breaker
– Consumer units (fuse boxes & MCBs)
– Lightning protection system
– Earthing system (protective earthing systems)
The main purpose is to distribute electrical energy in an efficient manner for lighting, power and heat applications. The design also takes into consideration the overcurrents possible in the future. Another important function is protecting the utility employees when working near live wires. There are also protective and safety functions.
The installation instructions often require the system to be tested by a qualified electrical engineer after completion, and before it is connected to the supply. The testing requires specialist equipment such as an insulation tester or current clamps. High-voltage installations such as those found on aircraft runways are also typically checked for continuity of electrical path through ground rods, lightning protection system bonding cables and grounding electrodes.
For low voltage systems that use mains circuits within buildings, some form of residual current device (RCD) is usually employed to provide additional protection against electric shock. RCDs may not be provided for all socket outlets but only selected ones which need them – either because they are more accessible than others or because there is a risk of electric shock.
Commercial Warehouse Wiring Installations
A commercial warehouse needs to be fully wired for power distribution, fire alarm systems, CCTV systems, data communications, and lighting. For a small warehouse, there are usually just three areas that need power – the main distribution board where the incoming supply is connected, one sub-board to control 240-volt equipment such as heating or welding machines, and then another small board to power general lighting.
3 Phase power is also often available in many commercial buildings, especially warehouses. This high voltage supply is able to carry large amounts of current into an industrial building – it's like having a three-lane highway that electricity can travel down. Industrial buildings are often fitted with transformers that boost the voltage to between 414V and 690V, measured in kilovolts.
Low and High Bar Lighting Installation
If you are planning on lighting your warehouse there are two types of installation – low bay or high bay. Low bay lights are smaller fittings that usually have between one and four lamps per fitting, whereas a high bay light is a more powerful lamp housed in a large, open-fronted fitting. Low bay lights are ideal for warehouses with a lower ceiling height.
Alpha Electricians Nottingham specialise in high bay lighting and can provide our clients with a variety of options depending on the needs of their company or circumstances.
If you are looking into having your business or factory fitted with High Bay Lighting, then speak with one of our specialists who will be able to talk you through your options and see how we can help you achieve energy-saving goals for your commercial property.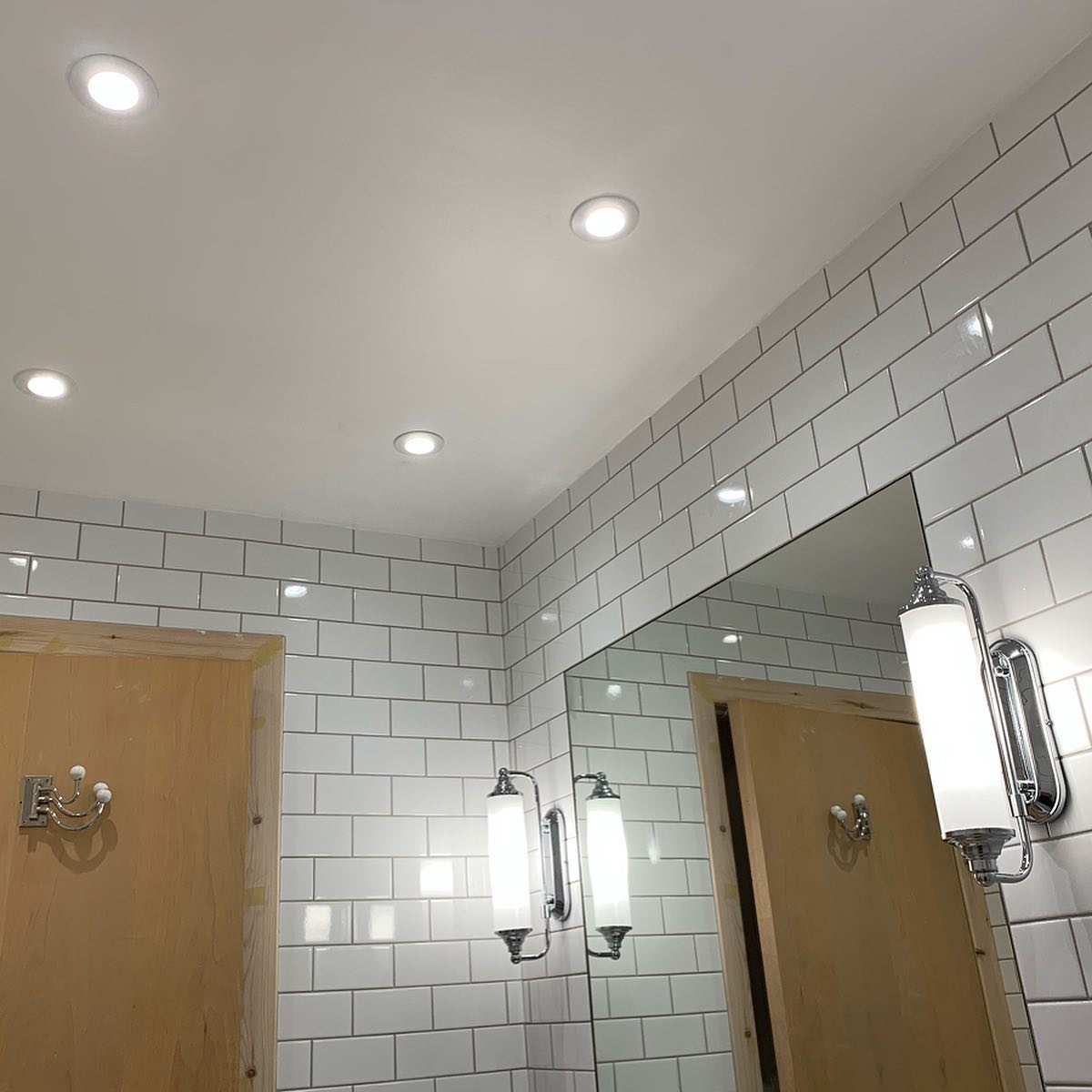 LED lighting installation
This is also becoming popular as an alternative to standard fluorescent strip or tube lighting. LED lights have improved considerably since they were first introduced and can now be found on a large scale in a number of commercial environments. LED lights have a much longer lifetime than standard fluorescent fittings and so will not need to be replaced as often, saving you money on maintenance costs. Furthermore, LEDs also burn cooler than other types of lighting which means they can be installed closer together without the risk of overheating.
In addition, LEDs are much more power-efficient than other types of lighting so they will be cheaper to run. This can also mean that the bills for your building run down considerably if LEDs are used throughout. If you have a warehouse where heat is likely to become an issue, then LED lights could be perfect for you as they produce less heat than other types of light.
When it comes to cost, LEDs are generally more expensive than other types of lighting but considering their much longer life cycle and the fact that they produce less heat when in use, the extra money upfront may actually save you a lot of money in the long run. This is especially true for areas that see a lot of heat; for example, warehouses or restaurants.
Another advantage of LED lighting is that it can be used to provide a lot of light in a relatively small area and because more light can be given off without generating more heat, LEDs are great for commercial lighting where large areas may need to be lit but space is at a premium.
What is the purpose of electrical installation?
The primary purposes of an electrical installation are to provide protection from danger, risks or hazards, for example by providing proper earthing, overload protection or any form of isolation, and to make safe connection to the power supply. The result must be safe operation under normal use without presenting a fire hazard or causing electric shock. Providing this safety requires careful design and construction at all stages – including good earthing practice in the building itself – together with regular inspection and testing during service life. Additionally, most installations require some degree of maintenance at least during their working lives in order to perform reliably without deterioration which would affect insulation resistance. It does not matter whether these tests and inspections are carried out by the installer (normally a contractor working under an installation certificate) or the end user (or employer); if they are not done then neither party will be able to comply with their obligations under electrical safety legislation.