How To Find A Good Electrician
There's something about finding a good electrician, especially one who offers a wide range of services and knows exactly what he's doing. There's a one hundred percent chance that you'll definitely call that person again and again.
Who's a Professional Electrician?
A professional electrician offers a wide range of services, including data cabling installations for new or existing properties. This enables homeowners to have unrivalled access to the web using their computers, laptops and mobile devices in conjunction with the household's WiFi network via fibre optic cables buried below ground which is not visible to passers-by. A proficient electrical contractor specialising in carrying out these kinds of services will also be able to install fire alarms when necessary, together with CCTV systems that are intended for both commercial premises as well as residential homes.
The primary function of an electrician is to offer professional advice and assist people in choosing electrical appliances that suit their particular needs without compromising standards of safety. This ensures maximum energy efficiency as well as convenience for users, who can be confident that the appliances they use every day meet the highest safety standards in terms of design, manufacture and compliance with international legislation.
In many cases, electrical installation work also needs to be inspected by a building surveyor or an electrical control panels inspector in order for a permit to be issued in accordance with local building regulations. Electricians may also seek further training in one of these fields when required.
Professional electricians are needed for small projects just as much, if not more so than large ones. Customers should request quotes from at least three different electrical contractors before choosing who they will hire for an electrical project. Ask the following questions when hiring an electrician: How long has he or she been in business? Have previous customers been satisfied with the work done by the electrician? What types of electrical work does the electrician do? Does he or she need to pull permits for the job and, if so, what kind? What is his or her hourly rate? Will there be a charge for coming out to estimate the project?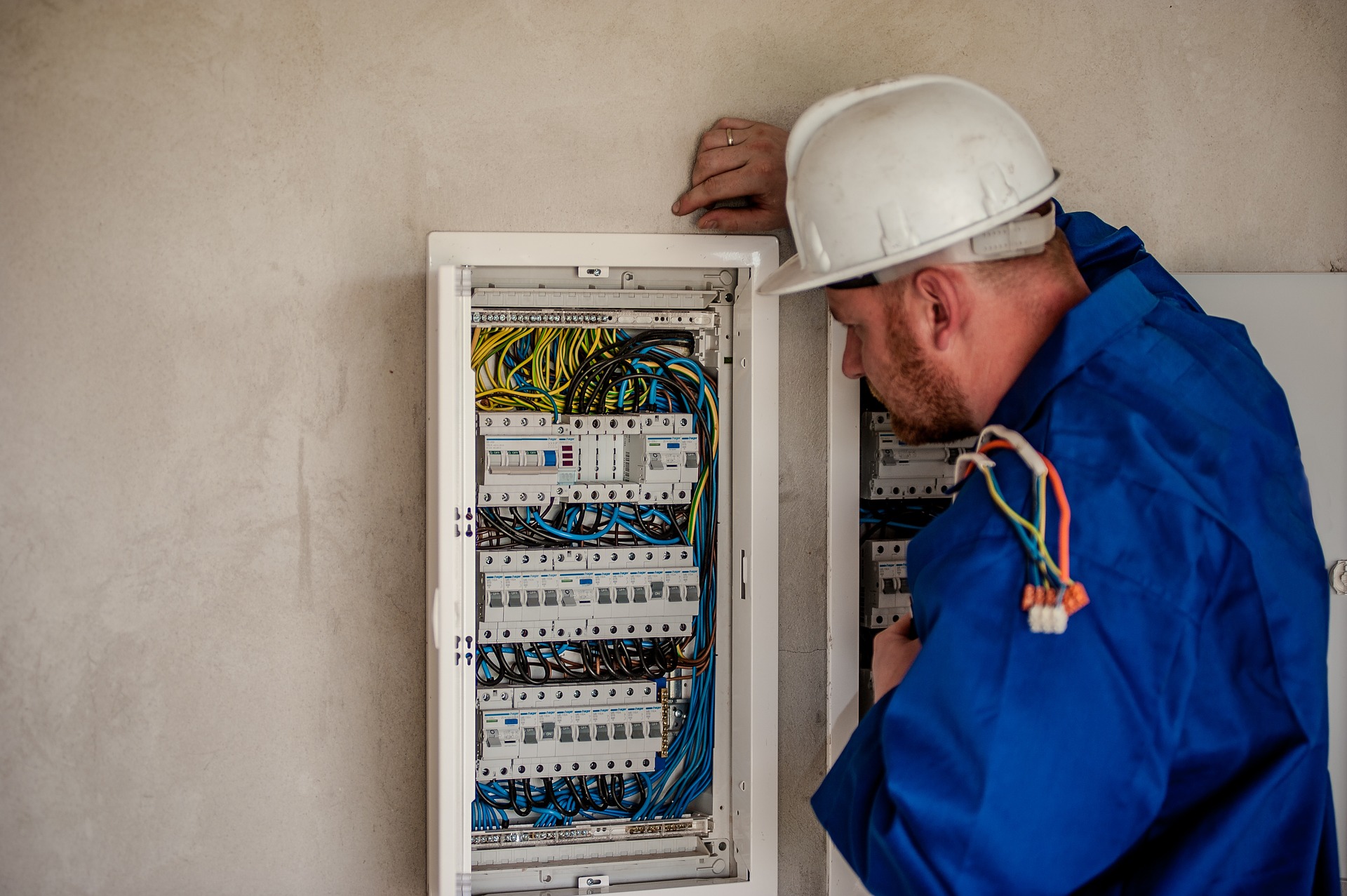 How do you know if an Electrician is Professional?
These questions should help you determine whether an electrician is professional and reliable.
Asking for estimates from three different contractors will also help you see which contractor's estimate is in line with your budget. An important part of hiring any kind of contractor is checking references. Ask previous customers about their opinion of that particular electrician and how well he or she stayed within the proposed time frame. Did they feel that the electrician was fairly priced? Were promised deadlines met? Did they feel comfortable with the electrician in their home?
Draw up a list of things that you need done. Once your list is complete, ask each contractor for an estimate detailing all aspects of the job. Most reputable contractors will be able to give you one free comprehensive estimate. If they can't, or if they charge extra for this service, find someone else who will provide you with a free estimate.
Before hiring any electrical work performed in your home, request two references from previous customers and call them to confirm their satisfaction.
Since most electrical jobs are small ones, many homeowners hire tradespeople themselves rather than using a licensed contractor or large company to perform electrical work. With all electrical projects, it's important that only qualified electricians choose materials and methods to do the job. If you plan on doing any of the work yourself, make sure that you're experienced enough to complete the task safely and effectively.
Why do you need a Professional Electrician to do the work?
If your home has outdated wiring that needs serious electrical repair or replacement, it's best to call a licensed electrician for help. DIY electrical projects require a certain degree of expertise and knowledge which many homeowners don't have.. The consequences of faulty wiring can cause serious injury or even death if not installed properly or used in an effective way.
Ensure your electrical system is up-to-code before starting a project by hiring a professional who carries out regular inspections to ensure safety from faulty wiring.
Doing household repairs yourself can be both time-consuming and expensive. When you need electrical services, it's best to hire a professional with experience in the field. However, hiring an electrician might seem like a daunting task.
How do you know the kind of Electrician to choose?
There are many different types of electrical contractors, so choosing one that fits your needs can be challenging. Not all electricians provide the same range of services, so you'll have to choose carefully depending on what is needed. 
When considering hiring a professional home service provider, you'll want someone who is reliable and experienced. In most cases, an emergency or weekend call-out fee can be quite expensive. You deserve to have your job done right the first time by a company that has integrity and an excellent record of previous work.
Everyone wants their electrical system to run smoothly without any breakdowns. There are a variety of things that could cause the circuits in your house to malfunction so it's important to keep on top of all issues, no matter how small they may seem.
What to look out for when choosing an Electrician.
There are many electricians offering electrical services so choosing one can be tricky. Here's some pointers on what to look out for:
Call them up and ask how long they have been trading – a company that has been going for a few years will have a good reputation and experience of dealing with similar jobs to yours. If they're newly started up, this may not be the case.
Ask them if they have any recommendations or testimonies from previous customers – a reliable contractor will happily give you a list of people who are happy for them to put you in touch with to vouch for their work. There is no better way of finding out about the quality of electrical services than from someone who has already used them.
Do an online search for reviews and testimonials about their company on websites such as Google and Yell – most companies nowadays have a website so it's worth looking there too. Check out customer feedback and what people think of their workmanship, reliability and value for money. This is all good information to have when making a decision about which electrical services company to use and could help you save a lot of time and effort in the long run.
Take a look at some of their previous work on display in their showroom or office – either way it's great to be able to see some examples of their past projects so you can get an idea of what level they are currently working at, rather than just taking their word for it.
Ask if they have had any training recently? Trained electricians generally know more about new laws and regulations than those who haven't been trained, plus they will probably be up-to-date with the latest products and safety features available. They'll also understand new electrical systems such as 'Radiator Smart', which lets heating engineers wire modern thermostatic valves into your central heating system and lets them control the temperature of individual rooms without affecting the whole house.
Check whether they have any qualifications or testimonials from satisfied customers you can take away with you– This is a good indication that the company takes pride in its work and offers a good standard of service. You should also ask to see their Gas Safe card before signing up to use their services. This will give you some assurance that they are registered and approved contractors who will be able to provide an efficient service.
If possible, try to get at least two fixed quotes for the job so as well as checking out the price, it's useful to be able to compare them; this is particularly applicable when comparing businesses. The customer should try to check out the background of potential contractors in order to be able to make a well informed decision.
The professional electrician should carry ID, have no criminal convictions and take pride in their work.
Prior to installation, make sure the technician explains exactly how it works so there are no misunderstandings.
Before the installation, ask if there are any additional charges associated with the project. Also make sure you understand how much it will cost to maintain and operate the equipment.
If installing security cameras at your business or home, make sure that they are installed by trained professionals who are familiar with local laws and regulations. Many areas have ordinances protecting citizens from having their privacy infringed upon by 'peeping Toms'. Make sure the company is aware of these restrictions before proceeding with an installation.
Check whether parts and labour come with a warranty on parts and labour, or if it is only for certain components of the system such as control panels and transmitters (should be more than years) . Ask what happens when the warranty expires.
-Make sure that the individuals who will be installing your security system are qualified, licensed, and insured. If they are not, this could lead to liability issues should something go wrong after installation of equipment or service calls.
Why should you look out for a reputable Electrician?
The reputable local electrical contractor will not only do exceptional work but will also provide the client with some useful expert advice as well as information about future renovations. A competent contractor will always highlight any potential problems. If the electrician has identified any issues, you can be sure that he is being honest with you and wants to protect your family from dangerous living conditions.
When searching for a reputable electrical contractor for your home or office, look no further than All About Electrical Services Ltd . As one of the leading commercial and residential electrical contractors in the area, Alpha Electricians Nottingham offer a wide range of services tailored to meet the unique needs of every client.
What do Alpha Electricians Nottingham do?
Alpha Electricians Nottingham provides their customers with the highest possible standard service as well as complete peace of mind due to our expertise and commitment to providing clients with 100% customer satisfaction, all at an extremely affordable price. We have a team that has many years experience and we know that you will be completely satisfied with our work, because we never leave any job unfinished and go above and beyond for our customers.
Our professional electrical contractors are proud members of certified electrician bodies so you can feel confident knowing that they have been vetted by other homeowners before gaining access to your property.
Why should you choose Alpha Electricians Nottingham?
Everyone wants their electrical system to run smoothly without any breakdowns. There are a variety of things that could cause the circuits in your house to malfunction so it's important to keep on top of all issues, no matter how small they may seem.
When doing any electrical work you should ensure that you always hire a professional because there are many things that can go wrong if you don't know what you are doing. It is vital that electrical services are not undertaken by those who have little or no experience at all as this could result in something going seriously wrong with potentially tragic consequences.
Do I  really need to hire an electrician?
Yes, you do.
If you are unsure about any electrical work, it is best that you don't do the work yourself. There are many dangerous voltages that can be found in your home, including 120V, 240V and even 480V. If you're not sure what to do about your wiring it's good to call a professional electrician and there's no better electrical company than Alpha Electricians Nottingham who have consistently set a record of excellent electrical work over time.